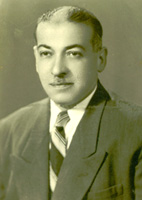 Abo Rashed Alwan for oriental sweets manufacturing and trading company was founded in 1939 by Reshdy Alwan a 26 years old enthusiastic man.
Mr. Reshdy learnt the art of making sweets from his grandfather Mr. Sadeq Alwan the real founder of this industry which was very limited at that time.So he worked hard to support and expands in this field.
This led him to establish his shop in Senjekdar an area from famous Almarjeh and the building were old at that time, this was in 1940
Mean while he agreed to open a branch in the United States with his brother at Atlantic Avenue St. in New York and it remained in business till 1967.
The turnover was in 1969 where that what called Abo Rashed Alwan company was actually running by Abo Rashed and his two sons basher and Abdulastar.
In that period of time he was elected as a president of the sweets and food Association in Damascus and remained so till 1981.
He worked afterwards as a guiding for workers in the industry of sweets making and as a consultant which is called in the local language "industry sheikh"
Abo Rashed Alwan died in 1987 and the company continued with its same level and his children took the responsibility of administration and development, and the company became widely known especially in the other Arab states.
The administration made some renewing and added some extra new sweets to its previous collection.
Currently the company is exporting sweets upon order to Europe and Arabic countries and has many customers in Lebanon, Jordon and others.And because of being a pioneer in this industry it is announcing to its dearest customers its holding with its slogan since it was founded which is "honesty and firm prices"